Those looking to find Indiana public records are able to use the free guide below to obtain, locate, and dig through public information of all sorts. The purpose of the Records Page is to assist anyone with their search, no matter the reason for the search.
What Laws Govern Public Information in Indiana?
The FOIA (Freedom of Information Act) permits Americans to seek out state or federal information provided by government networks. The public records law specific to Indiana includes the Indiana Access to Public Records Act (APRA) APRA allows Indiana residents to request public records like photos, maps, and documents. However, some records are confidential, aka non-disclosable records. Examples of these types of records include trade secrets, patient medical records, and a company's private financial information. Therefore, it's up to an agency to decide when it's appropriate to reveal or not reveal certain information, especially when it's related to employee personnel or criminal justice cases.1
Many private websites provide a records search service, and some of them cost visitors nothing to use. This makes it convenient for those who rather carry out a search from the comfort of home than request public records via mail or in person. Nonetheless, free services aren't always reliable, plus it can take hours for someone to research something that delivers little to no results. That's why it's highly recommended for people to consider paid government searches. After all, it could be money well spent.
In order to conduct accurate searches, people must know how to figure out the appropriate jurisdiction, government agency, and correctional facility where they can find specific information.
Indiana Criminal Records Explained
Indiana criminal and arrest records typically contain information about a person's court dispositions, convictions, reason for arrests, and other related information. People like shelter managers and business owners need to know someone's criminal history to ensure the safety of their clients as well as themselves.
Are Indiana Criminal Records Free to the Public?
Indiana criminal records are open to the public. As mentioned earlier in this article, it's okay for the general public to request government information as long as it's not sealed or confidential.
How to Run Indiana Criminal Records Search for Free
The Indiana State Police provides two criminal history search tools: the Limited Criminal History search tool and the National Criminal History search tool. The Limited Criminal History search feature, as its name implies, deals with arrests that occurred in Indiana only. Its results are also based on someone's name, birthplace, social security number, and other important details. Anyone who prefers to mail a request for a criminal history report can print out this form and send it with a money order to this address:
Indiana State Police
Criminal History Limited Check
PO Box 6188
Indianapolis IN
46206
Those wanting a more thorough criminal history report can use the National Criminal History tool. It offers a fingerprinting service that covers state and federal charges and arrests. It's aptly called INkless (Indiana's Electronic Fingerprinting Network). For online registration, site visitors need to click on the "Request a Fingerprinting Appointment Online" button to be directed to this page: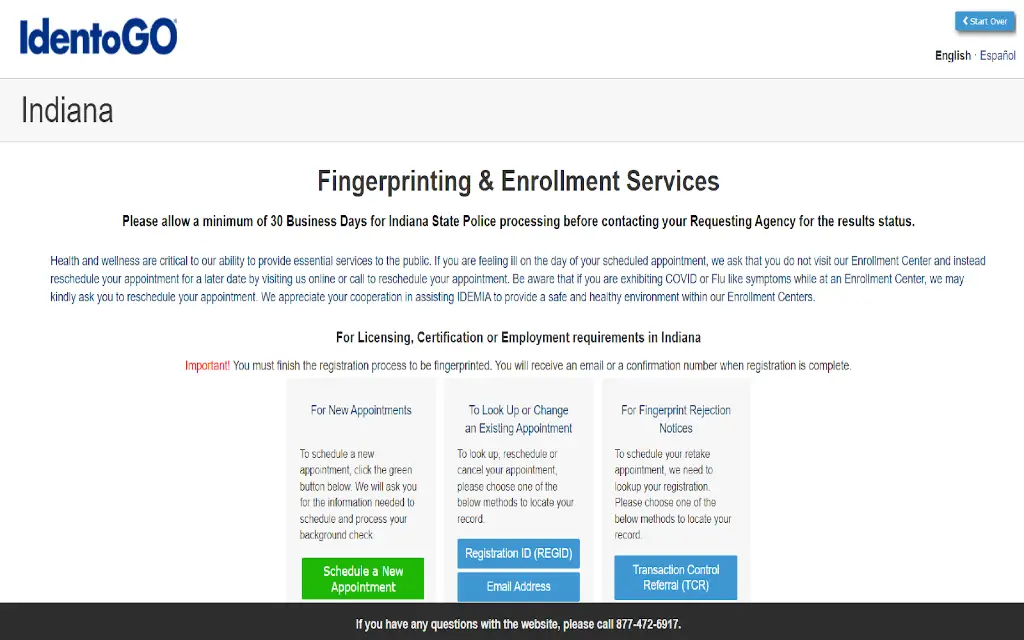 Then, they need to click "Schedule a New Appointment" and follow the prompts in the signup process. Directions are in English and Spanish, and payment options include a debit card or credit card (online), and a money order or cashier's check (in-person). (Out-of-state residents have to follow these guidelines.)
If someone wants to enroll with the assistance of a customer service agent, they can call the number on the site.
In addition, people can find out someone's criminal history by researching their county's website or phoning their local sheriff's office. Additionally, they can do this by using a search engine and typing "county + sheriff's office + criminal records."
How to Find Free Criminal Arrest Records in Indiana
Some people think criminal records and arrest records are synonymous terms, but that couldn't be further from the truth. A criminal record shows that someone has gone through a court trial and been found guilty of a specific offense. An arrest means that someone has been charged and taken in for questioning but is innocent until proven guilty.
There are helpful resources that people in Indiana can use to look up someone's arrest record. For example, the homepage of the Parke County Sheriff's Office website lists people and their photos under the headline "Recent Arrests."
Residents of Scott County can find arrest reports via the Scott County Sheriff's Office press release page.
The Vigo County Jail keeps a log of recent arrests on the town newspaper Tribune-Star.
If applying the above methods isn't feasible, a person can call their local sheriff's office. They can also request arrest records by mail if possible. They can scour search engines as well by typing "county + sheriff's office + arrest records."
Are Mugshots Public Records in Indiana?
Mugshots are considered Indiana public records. They make it simpler for law enforcement and everyday citizens to recognize and track down an offender or suspect.
St. Joseph County locals can use the St. Joseph County Police Department's inmate search feature to look up mugshots of suspects in their area. Users have to click on "JailTracker," and type in a captcha code.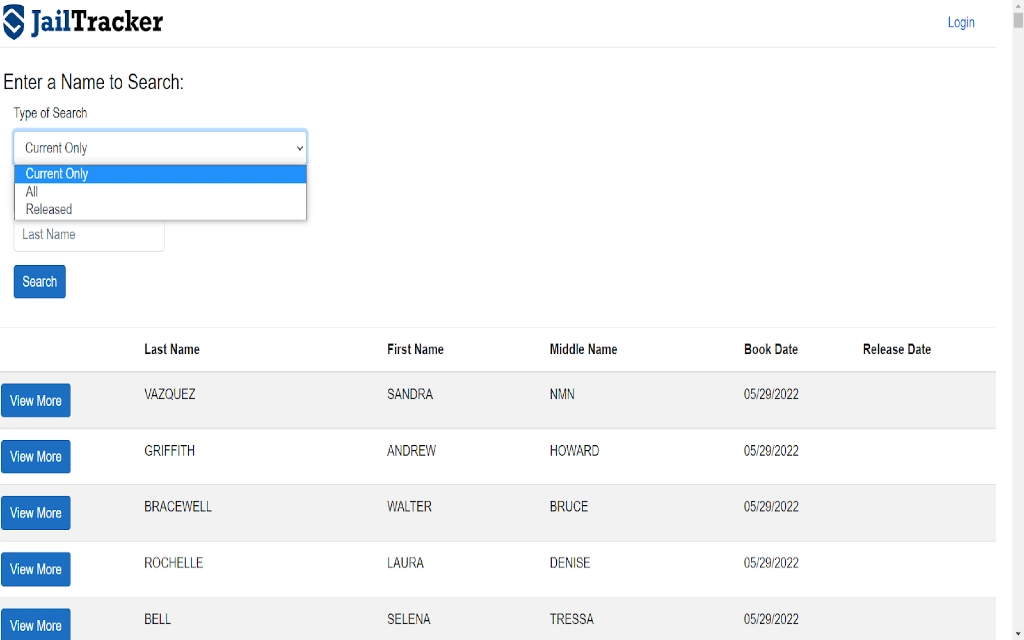 Results can be filtered by "Current Only," "All," or "Released." Clicking on the "View More" shows an inmate's photo and other information like charges, bond, and arrest date. (County jails like the ones located in Hancock County and Hendricks County also use the JailTracker lookup tool.)
Randolph County's recent arrest page has a list of local suspects along with their mugshots. Each suspect is shown holding up a placard with their arrest date and ID number.
The inmate roster provided by the Jennings County Sheriff's Office possesses daily updated lists of inmates and their photos. A visitor only needs to click on one of them to gain information about an inmate's booking date and charges.
Residents can apply similar methods to other county sites if possible. Additionally, they can call their local jails or police departments. They can input the words "mugshots + [name of county]."
Are Indiana Juvenile Records Sealed?
Juvenile records aren't automatically sealed once someone reaches adulthood. It's understandable why a person wants to do this, though, since a juvenile record can ruin their future job opportunities. Sealing (some) juvenile records is possible as long as the candidate meets the following criteria:
They were arrested, but they didn't need to go to court
Their case went to court, but it was dismissed
They won their trial
They waited a year before requesting record sealing2
Free Warrant Search Method in Indiana
If someone is concerned about a possible warrant out on themselves or someone they care about, they can utilize warrant search tools provided by some of the local counties. For instance, the Howard County Sheriff's Office offers an active warrant list that users can download. (The Indiana Department of Correction (DOC) also provides a fugitive list.)
The warrant list on the Sheriff of Madison County site allows visitors to click on the green icon to learn more about a warrant subject. The additional information includes the subject's address, charge, and warrant ORI.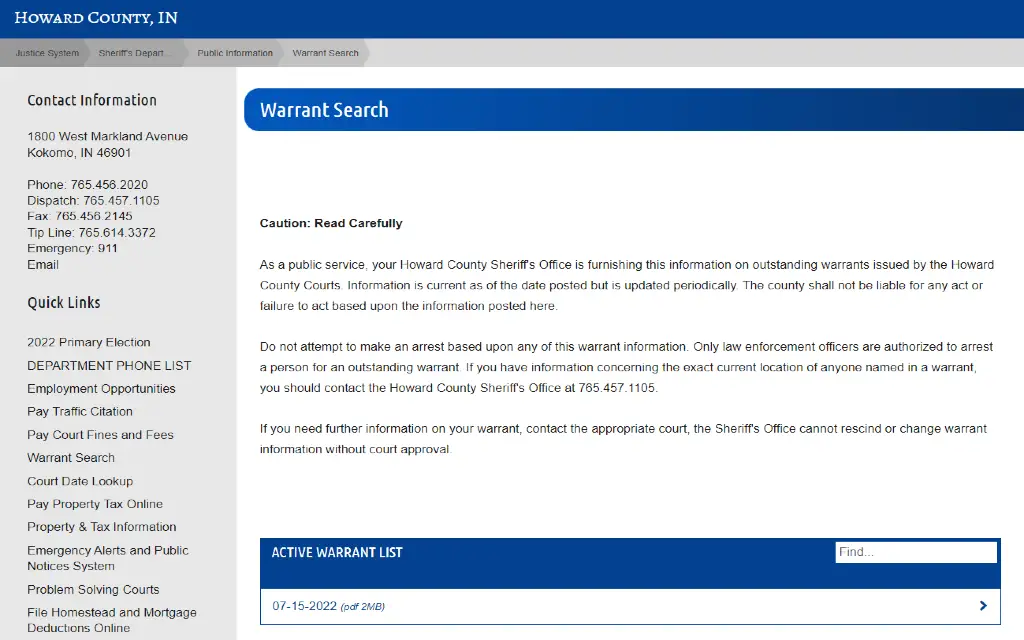 Anyone living in Allen County can call the county jail to provide a tip, contact Crime Stoppers, or ask the Warrant Divisions any questions.
Because some sheriff's offices and police departments don't offer warrant lists or online search tools, Indiana residents can contact them by phone.
How to Find Indiana Sex Offenders (Using the Sex Offender Registry Map)
Everyone must know where sex offenders are residing, particularly if they're careers of the elderly or children.
The Indiana DOC offers a handy Sex and Violent Offender Registry tool for locals to use. Here's how it works: upon entering the site, users can pick any county to begin their research. (They can click on a county on the map or a county listed at the bottom of the page.) This section will use Harrison County as an example.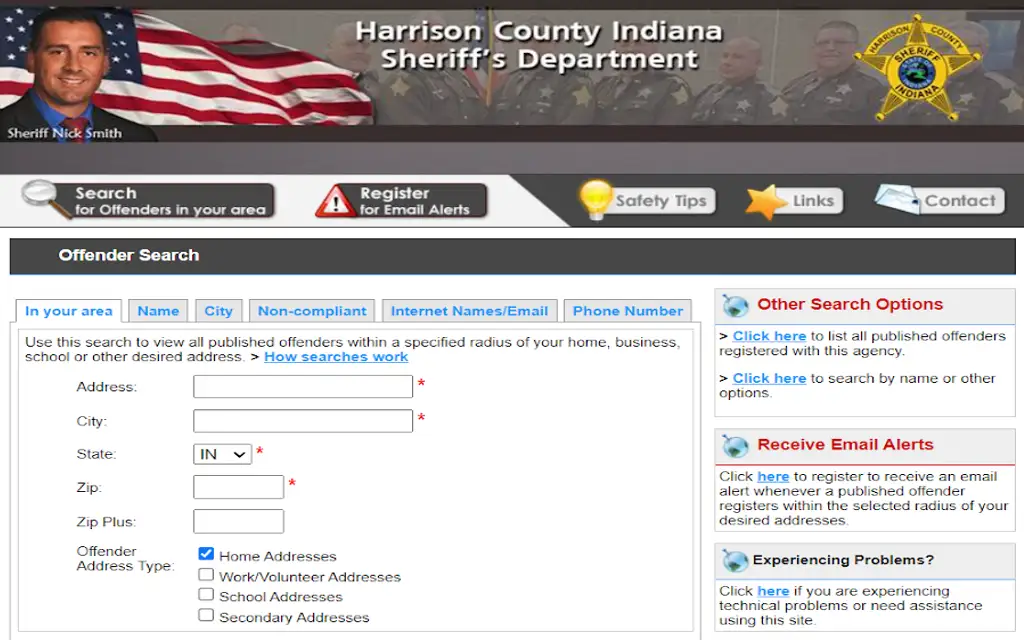 As shown here, site visitors can search based on name, phone number, city, non-compliance, email address, and proximity to someone's home or business.
People can contact the Indiana DOC's Sex and Violent Offender Registry division through these numbers:
Those interested in researching sex offenders on the federal level can check out the National Sex Offender Public Website.
How Do I Get a Criminal Background Check in Indiana?
When applying for a job (especially jobs like these) or an apartment, it's essential for someone to go through a background check to let their prospective employers and landlords know that they're safe and trustworthy. Details that show up on background checks usually include someone's credit information, past addresses, and any crimes committed.
People can use the Limited Criminal History and the National Criminal History search tools previously mentioned in this guide. Private investigators and security guards should apply for or renew their license through the Private Investigator and Security Guard website before going through a background check.
Many police departments and sheriff's offices provide their own background check services. People can obtain these criminal background reports by using a search engine to enter "background check + county."
Indiana Court Records & How They Work
Court records typically consist of documentation associated with specific hearings or trials maintained by an agency of the court system. Records that are not labeled "confidential" are Indiana public records. However, what's considered confidential and non-confidential depends on the state, federal, and public agency laws as well as laws created by the Indiana Supreme Court.3
The judicial branch of Indiana encompasses trial courts and appellate courts. The trial courts are made up of:
Town and/or city courts
Superior courts
Circuit courts.
Trial courts handle cases involving civil or criminal situations.
The appellate courts consist of:
The Indiana Tax Court
The Court of Appeals of Indiana
The Supreme Court of Indiana
They work with plaintiffs or defendants who request a second court trial after losing the first one.
How to Search Indiana Court Records by Name
Many courts provide a website called Odyssey (aka MyCase) where people can locate trial and appellate court cases by case number, name, or attorney for free.
Additionally, the state's judicial system offers a directory containing the phone numbers and addresses of local courts and clerks. This is useful if someone is unable to find a court case online.
Below are links visitors can use to search guardianship, protective orders, and child abuse cases respectively:
How Do I Find Out if Someone Has Filed Bankruptcy in Indiana?
There are three ways someone can check another person's bankruptcy records: by phone, in person, and online.
Its McVCIS phone service (Voice Case Information System) is available every day of the week at any time. They can dial 866-222-8029 and abide by the voice instructions to go forward.
The US Bankruptcy Court in the Southern District of Indiana provides computers that the general public can use for free. With that said, it costs money to copy or print documents, so patrons need to have money on hand just in case. On-site locations are based in Indianapolis, Terre Haute, Evansville, and New Albany.
The Public Access to Court Electronic Records (PACER) site is a great option for those who don't want to leave their home or speak on the phone. Documents like transcripts and reports cost $0.10 per page. Audio recordings of court cases cost $2.40 per file.
Inmate Records in Indiana Jails & Prisons
The Indiana DOC operates 18 adult state prisons and four juvenile correctional facilities with a population of over 27,100 prison inmates. There are 92 jails spread across 92 counties in Indiana. (The jail inmate population is approximately 20,900.)4
An inmate's prison and jail records are mainly made up of mugshots, booking numbers, inmate release dates, and correctional facility information.
How Do I Search Inmates in Indiana County Jails?
Those interested in searching for a jail inmate can check out the online tools offered by their county jails and police department city jails. The Marion County Sheriff's Office offers a tool that gives users two search options: a name search and a unique identifier search. The name search allows someone to research an inmate's first and last name and date of birth. The unique identifier search lets people look up someone by county or state ID, FBI number, or other values.
On the inmate lookup feature provided by the Delaware County Sheriff's Office, users can either click on a name already featured on the list or type a name in the search box. Clicking on a name shows information like name, inmate number, and trial status.
The Ripley County Sheriff's Office keeps a current inmate list on its website.
Since some sheriff's offices don't provide lists or online databases, residents can call or ask in person. This can be accomplished by using a site like Google to type in "jail inmates + county."
How Do I Find Prison Inmates in Indiana (Federal or State)?
People wanting to locate an inmate in prison can utilize the Indiana DOC's offender search tool. Site visitors can search by the offender's number or name. This section will use the name search option as an example by typing in "Joe Smith".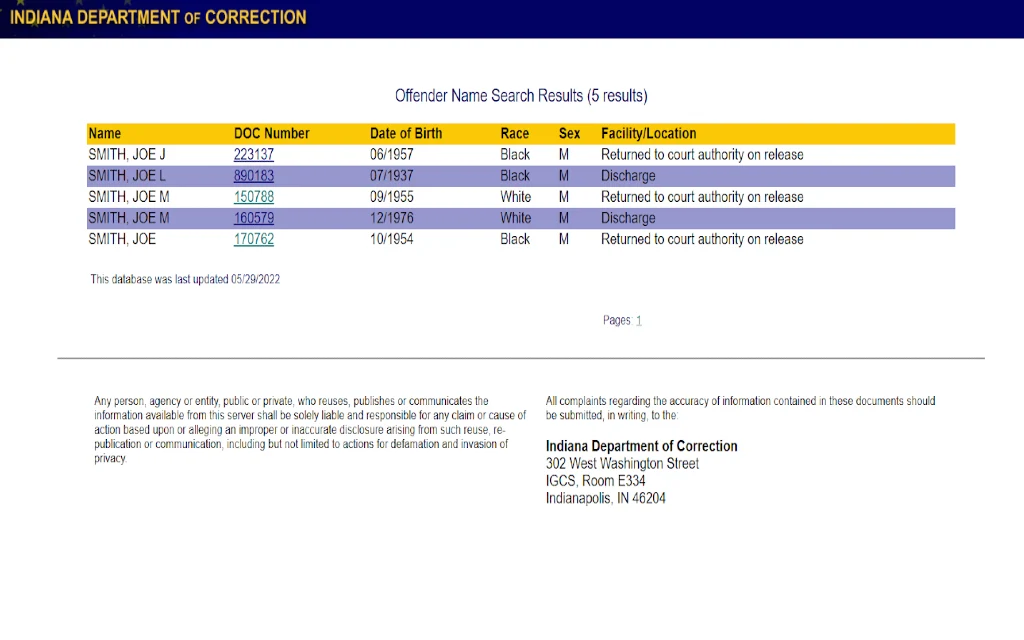 Clicking on the DOC number next to one of the names shows sentence details like where the said conviction occurred, projected release dates, and Indiana citation code.
If anyone knows someone imprisoned in the federal system, they can visit the BOP (Federal Bureau of Prisons) site. It offers an inmate locator that covers offender records from 1982 to the present day.
Locate a Prison Inmate's Release Date
Parole day is an exciting time for both inmates and their loved ones. One way to find out when a prison inmate is going to be released is by following the Indiana DOC search procedures outlined in the previous section. They can also call the number of the institution where they're imprisoned. Here's a list of all the Indiana DOC correctional facilities and their contact information.
Visit & Send Money to Prison Inmates in Indiana
Many inmates look forward to receiving visits and money from friends and family members. But, there are specific rules people need to follow before visiting and/or sending funds.
Visiting an Indiana Inmate
Prospective visitors are required to divulge their criminal background, relation to the inmate in question, and any employment with the Indiana DOC network. Upon approval, they can create an account and schedule a virtual or on-site appointment via the GTL site. During visitation day, a person needs to bring their ID. All visits last 60 minutes.5
Sending Money to Inmates in Indiana
Indiana DOC inmates can receive money via six accounts: Message Link Account, Trust Fund Account, PIN Debit Account, Video Visitation Account, AdvancePay Phone Account, and Debit Link Account. Users can read more about how they work here.
Visitors can send funds online through Connect Network, by mail, via the Connect Network app, or by toll-free phone numbers.
Those with customer service-related issues or questions should dial this number: 877-650-4249
Indiana Vital Records & Statistics
Vital records in Indiana usually consist of marriage records, adoption decrees, paternity requests, death certificates, and fetal death certificates. This guide will only cover death, birth, divorce, and marriage records.
Are Indiana Vital Record Certificates Public Record?
Some Indiana vital records are open to the public, and some are not. For instance, birth certificates are kept private for 75 years to protect someone's identity.6 Death certificates are also not Indiana public records and can only be obtained by someone's spouse or other immediate family members. Marriage certificates are public records, and so are divorce certificates unless they're sealed.
To illustrate the amount of divorces in Indiana, the following image shows the divorce rates for every Indiana county.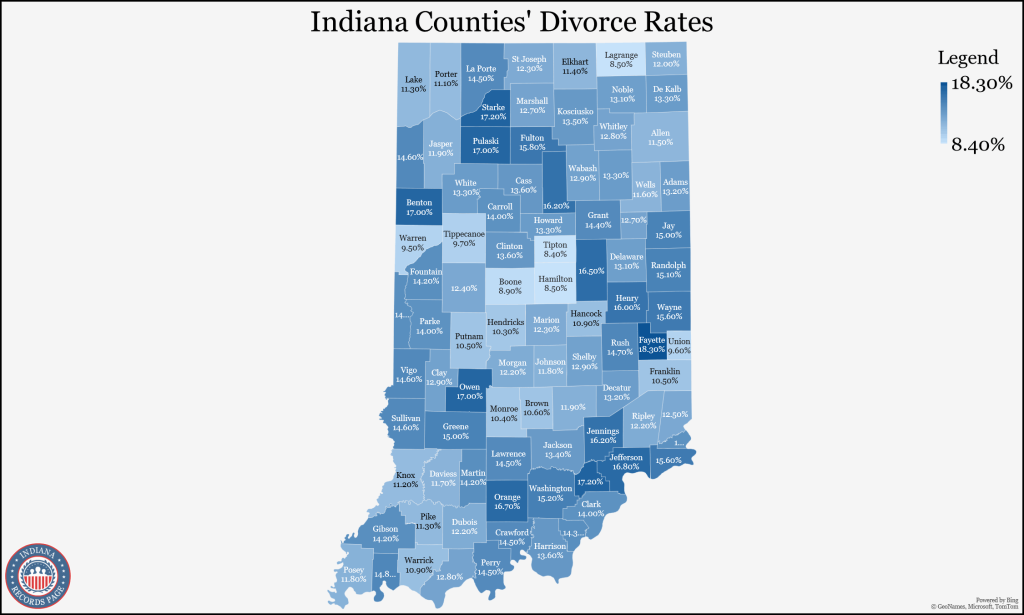 Obtain Free Marriage & Divorce Records or Replacement Birth & Death Certificates in Indiana
Anyone interested in purchasing a birth certificate or death certificate can get one from the Indiana Department of Health Division of Vital Records. Below are the three purchasing options available for customers:
Vital Records
Indiana SDH
PO Box 7125
Indianapolis IN 46206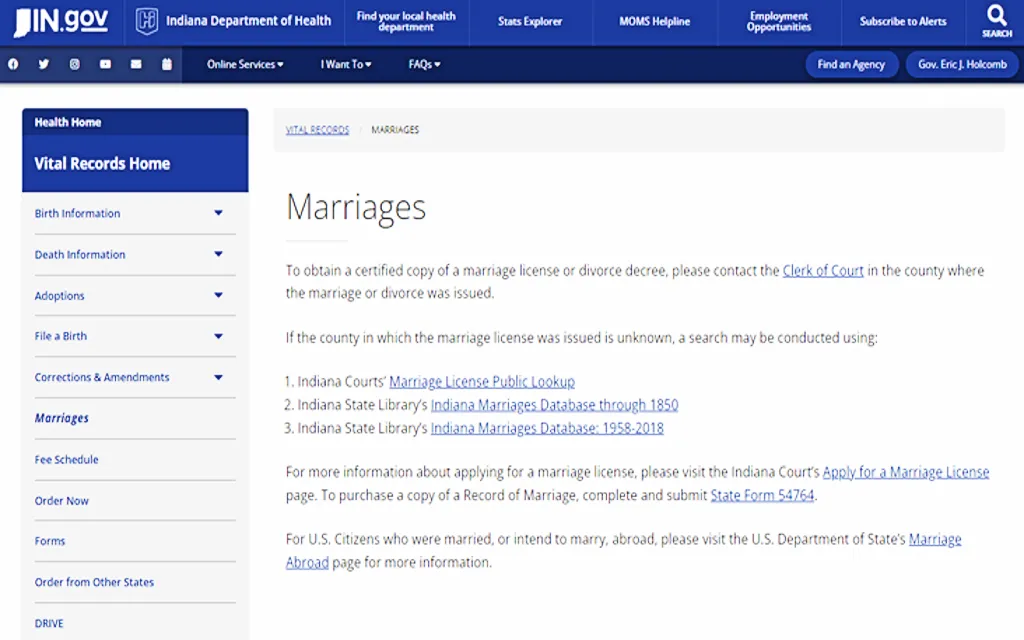 The price for birth and death certificates is $10.00. Additional copies cost $4.00. Processing and shipping times for these records can take about two to three months.
Marriage and divorce certificates can only be retrieved from a Clerk's Office in the county where the marriage or divorce took place. The cost of new and extra copies varies.
It can be confusing to choose between paid and free record-searching methods. But, with the right guidance and tools, the task should be simpler. This article can lead someone on the right track when it comes to locating Indiana public records.
1indy.gov. (n.d.). indy.gov. Retrieved June 25, 2022, from <https://www.indy.gov/activity/access-to-public-records-act>
2IPDC: How to Expunge Your Juvenile Records. (n.d.). IN.gov. Retrieved June 25, 2022, from <https://www.in.gov/ipdc/juvenile-justice/information-for-youth-and-parents/how-to-expunge-your-juvenile-records/>
3What records are available to the public, and what records are confidential? (2022, May 22). IN.gov. Retrieved June 25, 2022, from <https://faqs.in.gov/hc/en-us/articles/115005226248-What-records-are-available-to-the-public-and-what-records-are-confidential->
4Indiana 2019. (n.d.). National Institute of Corrections. Retrieved June 25, 2022, from <https://nicic.gov/state-statistics/2019/indiana-2019>
5IDOC: Visitation – Offender Information. (n.d.). IN.gov. Retrieved June 25, 2022, from <https://www.in.gov/idoc/offender-information/visitation/>
6​​Finding Indiana birth, marriage and death records online. (2017, January 19). Indiana State Library. Retrieved June 25, 2022, from <https://blog.library.in.gov/finding-indiana-birth-marriage-and-death-records-online/>
7IdentoGO. Accessed 6 May 2023. <https://in.ibtfingerprint.com/>
8JailTracker. Accessed 6 May 2023. <https://omsweb.public-safety-cloud.com/jtclientweb/jailtracker/index/StJoseph_County_IN>
9Howard County Indiana Government. Accessed 6 May 2023. <https://www.howardcountyin.gov/>
10Harrison County Indiana Sheriff's Department. Accessed 6 May 2023. <https://www.icrimewatch.net/index.php?AgencyID=54836>
11Indiana Department of Correction. Accessed 6 May 2023. <https://www.in.gov/apps/indcorrection/ofs/ofs?lname=Smith&fname=JOe&search1.x=44&search1.y=19>
12IN.gov. Accessed 6 May 2023. <https://www.in.gov/health/vital-records/>